By Karen J. Miller, MD
Many families have been cooped up too long and are getting ready to hit the road. With summer in full swing and the population increasingly getting vaccinated, some people are going to start traveling again. But taking a road trip with the whole family can be a difficult situation—even without factoring in COVID-19 precautions.
Developmental-Behavioral Pediatrician and esteemed Symposia Medicus faculty member, Dr. Karen Miller, shares her insight on ways healthcare professionals can help parents address behavior or conduct problems with their children. In this issue, she discusses procedures parents can apply to many challenging behaviors of typical children and of children with differences while traveling in the car.
Anthony is a tall, handsome, 12-year-old boy who comes into my office today wearing big red headphones and dark sunglasses. He does not respond to his mother's prompt to say 'hello' to the doctor. He walks past me to look out the window at the cars on the street. Anthony has autism, ADHD, and limited language skills.
Mom's concern today is that he is harder to control in the car since he has gotten taller. He can now reach over and hit or scratch his twin who has mild autism. What can she do?
The following procedure can be applied to many challenging behaviors of typical children and of children with differences.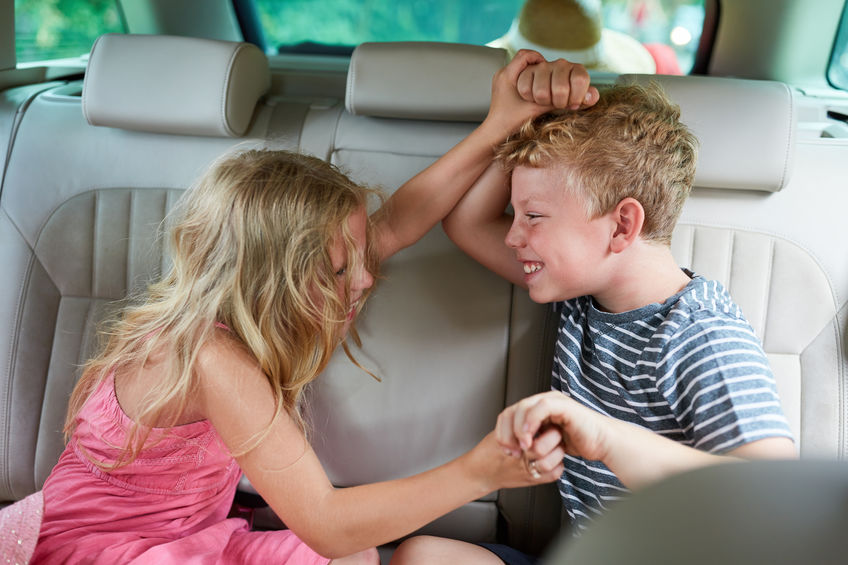 Procedure
Principle
When a car is in motion, and there is disruptive behavior. It is a distraction and that is unsafe.
Rule
Make an announcement. The rule is: "If anyone is acting unsafe, this car will stop."
The rule applies when a child or an adult is being disruptive, such as yelling, throwing, or hitting.
Preferred Behavior: What Do You Want?
Safe Behavior: Anthony keeps hands and feet to himself. His body is calm. He may cry, complain, fuss, and be unhappy. He does not throw things handed to him.
Unsafe Behavior: Anthony becomes loud, disruptive, touching, scratching, or hitting others, or throwing things in the car, especially on the highway.
Prevention: Use child locks so children cannot open the car door. Consider a safety harness for the car, such as: Special Needs Car Seats & Seatbelt Guards
Insurance or the Department of Developmental Services (DDS) may cover the cost.
Practice
Have a low-value destination (a local green space, not the mall). State, "First, we will practice safe hands, then we will go to the park." After everyone is buckled up, state, "Good job, I see safe hands, safe feet, let's go!"
Drive around the neighborhood a short distance, commenting on, "Safe hands," "safe feet," and "calm body," (demonstrate calm with a deep breath and a loud sigh).
When back to your driveway, put car in park, comment again, "Good job. Safe hands. Safe feet. Now we can go to the park."
Repeat the routine when get to the park. When you've arrived, say, "Good job, you had safe hands, safe feet, and calm body. Now we can go run on the grass!" Repeat the routine on the way back.
Next Level Practice: On the Highway
Being on the highway was a trigger for Anthony.
Rule: Headphones before getting on the highway. (Road noises bothered him.)
[Optional] Take a picture of Anthony with headphones on and put in on back of the other visor. Get into the habit of putting the visor down before going onto the highway as reminder for "headphones on, safe hands, and calm body."
Practice highway behavior and getting on and off the highway safely (looping around, just practicing). Congratulate him.
When disruptive behavior occurs, follow the procedure. Be consistent.
Give one verbal warning. Get ready to pull off the highway or to take the next exit and pull over on a quiet side street.
Pull over carefully with safety flashers on and sit quietly in car until he exhibits safe behavior or take the key and get out until he is "calm and ready."
Patience & Persistence
Whether you have a child with autism or a child who just likes to bother their sibling, it is likely that you will spend a lot of time sitting on the side of the road, so bring some snacks for yourself, too. Remember, lives are at stake.
Resources
Ask an expert! Dr. Miller will continue the quarterly column, Behavior Matters on Symposia Spotlight. Please send your questions for Dr. Miller to info@symposiamedicus.org.
Dr. Miller is a Clinical Professor of Pediatrics and Developmental-Behavioral Pediatrician at the Center for Children with Special Needs, Tufts Children's Hospital (formerly the Floating Hospital for Children), Tufts Medical Center in Boston, Massachusetts. She lives in Brookline, Massachusetts.