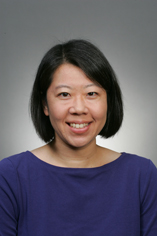 By Kimberly A. Horii, MD
With spring upon us and summer rapidly approaching, Pediatric Dermatologist and Symposia Medicus faculty member, Dr. Kimberly Horii, shares several strategies regarding sun protection that include more than just sunscreen—plus special considerations for young children and infants.
Skin cancer is one of the most common cancers in the United States as 1 in 5 Americans will develop a skin cancer in their lifetime. However, it is also one of the most preventable. A blistering sunburn in childhood or adolescence can double one's risk of developing melanoma later in life. One of the best ways to reduce your risk of developing skin cancer, regardless of your age, gender, or race, is to regularly protect your skin from the sun. Now that spring is here, everyone should be aware of the best ways to protect themselves and their family from the sun when outdoors.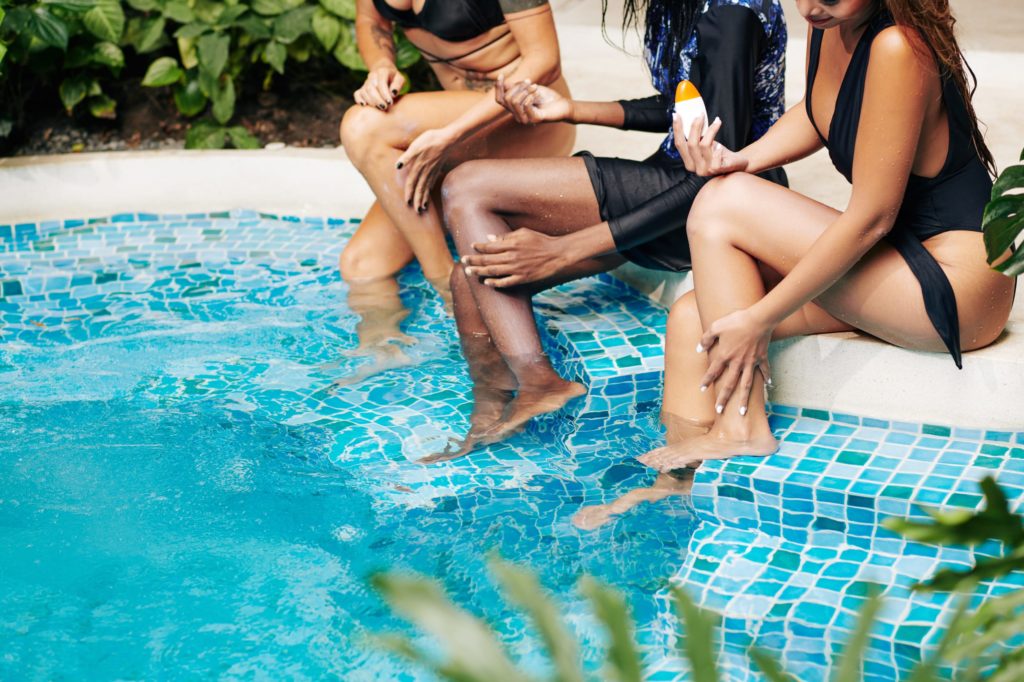 Sunlight is composed of both Ultraviolet B (UVB) and Ultraviolet A (UVA) rays. Overexposure to either can increase one's risk of developing skin cancer. Overexposure to UVB can also lead to sunburns while overexposure to UVA can lead to wrinkles, hyperpigmentation (sun spots), and premature aging of the skin. Even on cloudy days, you need to protect your skin as ultraviolet radiation penetrates through the clouds.
Although most people equate sunscreen with sun protection, both the American Academy of Dermatology and the American Academy of Pediatrics recommend various ways to protect skin from the sun's damaging ultraviolet light. This includes seeking shade when appropriate between 10:00am and 2:00pm when the sun's rays are the strongest. Clothing and accessories are also important forms of sun protection. Wearing lightweight, tight-weaved, long-sleeved shirts and pants can physically block the sun's rays. A wide-brimmed hat is also a simple way to protect your ears, face, and neck. Sunglasses with UV protection provide additional protection for your eyes and eyelids. Extra sun protection may specifically be needed if you are near water, snow, or sand, as these all reflect the sun's rays.
Sunscreen is commonly used to protect skin from the sun's harmful UV rays. There are two types of sunscreen active ingredients, chemical and physical, which protect your skin against UV light. Chemical sunscreens work like a sponge to absorb the UV light. Common chemical sunscreen active ingredients include avobenzone, octocrylene, oxybenzone, octinoxate, octisalate, and homosalate. Physical sunscreens remain on the skin's surface and reflect UV light. Physical sunscreen active ingredients, such as zinc oxide and titanium dioxide, may leave a white hue on the skin's surface that is not cosmetically pleasing to some consumers. Tinted sunscreens that contain zinc oxide or titanium dioxide may be an option as the white hue is less prominent in this type of formulation.
Most marketed sunscreens contain a combination of both physical and chemical sunscreen active ingredients which can provide broad spectrum coverage against both UVB and UVA.
Sunscreens are regulated as over the counter (OTC) drugs by the FDA which establishes safety and efficacy regulations for them. In 2019 and 2021, the FDA proposed a rule that called for further safety testing by manufacturers of 12 common chemical sunscreen active ingredients. The FDA has not determined that these chemical sunscreen active ingredients are not safe to use and has not pulled them from market, but the FDA has requested more safety data on them. The FDA has determined that two physical sunscreen active ingredients, zinc oxide and titanium dioxide, are GRASE (generally recognized as safe and effective) and do not require further testing. Therefore, if you have concerns about chemical sunscreen safety, you may want to consider using a sunscreen whose main active ingredient is zinc oxide or titanium dioxide.
When shopping for a sunscreen, you should be looking for several key features on the labeling. These include the terms broad spectrum protection against both UVB and UVA, water resistance (ideally protection lasting 80 minutes if sweating or swimming), SPF (sun protection factor) 30 or higher, and the active sunscreen ingredient. SPF only represents protection against UVB, not UVA. A SPF 30 sunscreen, if applied correctly, may protect against 97% of the sun's UVB rays. In order to also protect against UVA rays, the sunscreen labeling should include the term broad spectrum protection, aside from providing a SPF value.
Sunscreen is available in a variety of forms including lotions, creams, gels, sticks, and sprays. Gels may be useful for hair bearing areas such as the chest, arms, or legs, while sticks may be preferred to use around the eyes since they will not run into the eyes leading to irritation or stinging. If you have sensitive skin, you may want to avoid sunscreens with fragrance and consider using a sunscreen that contains only a physical sunscreen active ingredient.
In order to effectively protect against the sun, sunscreen needs to be applied correctly, and reapplied every two hours if outdoors sweating or swimming. Most people do not apply enough sunscreen to reach the full expected SPF protection.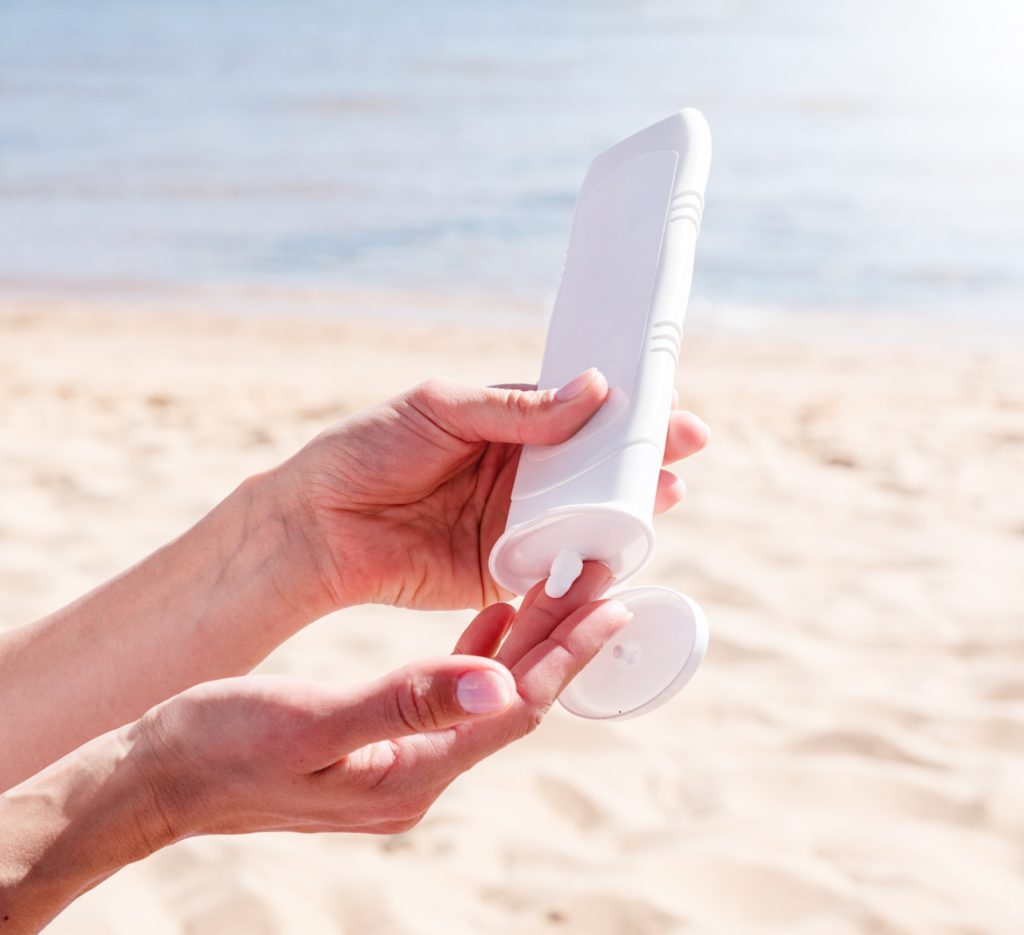 On average, an adult needs one ounce of sunscreen (a shot glass full of sunscreen) to cover the entire body to obtain the expected SPF protection. Sunscreen should also be applied to the ears, neck, and feet (especially if barefoot or wearing sandals/flip flops). If using spray sunscreen, it should be sprayed into the hands (to avoid possible inhalation) and then a large amount should be applied and rubbed into the face or body.
For young children and babies under six months of age, sun protective clothing and shade should always be utilized to protect their skin from the sun. For those children over six months of age, if shade and clothing are not available, broad spectrum, water-resistant sunscreen with a SPF of at least 30 can be applied to exposed skin; however, sunscreen that mainly contains zinc oxide or titanium dioxide as the active ingredient is preferred due to their GRASE status.
In January of 2021, Hawaii began prohibiting the sale and distribution of sunscreens that contain oxybenzone or octinoxate in the Hawaiian Islands due to concerns that these chemicals damage the marine ecosystem. Prior to a tropical vacation, you may want to research whether there are any sunscreen restrictions where you are visiting.
Hopefully you can utilize these sun protection tips and enjoy the outdoors this spring and summer in a sun-safe fashion!
References:
Li H et al. Sunscreen application, safety, and sun protection: the evidence. J Cutan Med Surg 2019;23(4):357-369.
Balk S et al. Ultraviolet radiation: a hazard to children and adolescents. Pediatrics 2011;127(3):588-597. Reaffirmed Pediatrics 2017;139(3):e20164205.
American Academy of Dermatology Online Sun Protection Information
https://www.aad.org/public/everyday-care/sun-protection
Kimberly Horii is a Professor of Pediatrics in the Division of Dermatology at Children's Mercy-Kanas City. She lives in Leawood, Kansas.