By Sarah Reagan & Jenna Korver
2021 is halfway over and we are ready to get outta here! While we are excited to start traveling again, things are not going to be completely "back to normal." Whether we see you in Big Sky, Oahu, or Lake Tahoe, here is some information to keep in mind when traveling post-pandemic.
Long time, no see. Have you missed us? Starting in June, Symposia Medicus resumed holding in-person conferences and we're heading back to your favorite vacation destinations this summer.
But before we start packing our bags and throwing on the sunscreen, here are a few things to consider so you can plan accordingly when traveling during this post-pandemic era.
Big Sky, Montana
It will be twice the fun in Big Sky, Montana where we are holding our 28th Annual Summer Conference on Obstetrics & Gynecology and our 3rd Annual Summer Conference on Acute Care of the Critically Ill Patient at Big Sky Resort.
Big Sky Resort will still be practicing social distancing (attendees spaced four feet apart) and facial coverings are recommended resort-wide.
For information regarding the COVID-19 Health and Safety Plan at Big Sky Resort, please visit:
There are plenty of outdoor activities to enjoy in Big Sky, but also keep in mind that Yellowstone National Park is only an 18-mile drive away. Whether hiking, fishing, or sight-seeing, the call of nature is going to attract many vacationers.
To better prepare for your trip, plan ahead and check the status of any closures or restrictions for visiting Yellowstone or any other park. There may be traffic at the park entrances and mask mandates may still be in place in indoor facilities like restaurants and gift shops.
For more information on visiting Yellowstone National Park this summer, go to:
Oahu, Hawaii
After a year like 2020, many people are looking forward to discovering the meaning of 'aloha' and joining us at our 22nd Annual Summer Conference on Women's Health on Oahu, Hawaii.
While packing the sunscreen, flip flops, and sun hats, don't forget the hand sanitizer and extra masks, too.
Starting July 8 (subject to change), Hawaii will eliminate its pretravel testing and quarantine requirement for domestic travelers who are fully vaccinated in the United States. People may still be required to wear masks indoors, but wearing masks outdoors is not required.
Even though restrictions are easing, check with your airline to ensure you comply with their travel requirements.
Visit the travel requirements section of the gohawaii.com website for more information:
Lake Tahoe, California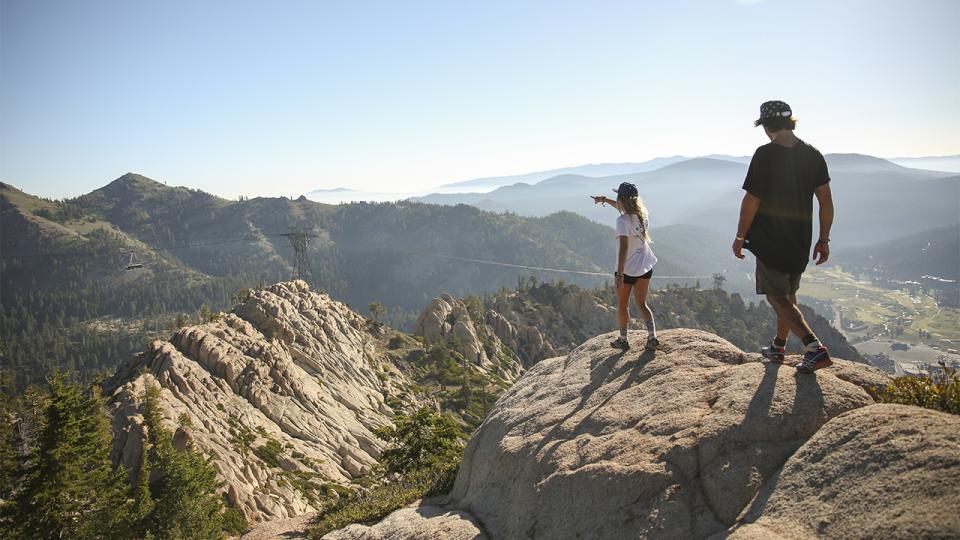 There are a few things to keep in mind while traveling to California.
With one of the nation's highest vaccination rates and lowest case rates, nearly all of California is open to welcome visitors. All restrictions except those for conventions of more than 5,000 attendees were lifted statewide on June 15 (our conference does not exceed 200 people).
California has issued a travel advisory that recommends caution and suggests self-quarantines for unvaccinated visitors from out of state and Californians returning to the state, but those steps are not mandatory.
For travel guidelines for the state of California, please visit:
If you are going to our 23rd Annual Summer Conference on Pediatrics, California state restrictions will be implemented in Lake Tahoe. Since Lake Tahoe sits on the state line, keep Nevada travel guidelines in mind as well, since you may be flying into Reno-Tahoe International Airport.
For travel guidelines for the state of Nevada, please visit:
For travel guidelines for Lake Tahoe in California, please visit:
For information regarding COVID-19, health, and safety at The Village at Squaw Valley, please visit:
For more information, please contact us at: travel-tours@symposiamedicus.org.
Sarah Reagan is a Conference Planner for Symposia Medicus. She lives in Concord, California.
Jenna Korver is the Publications Coordinator for Symposia Medicus. She lives in Upland, California.