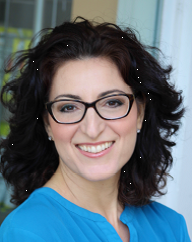 by Artemis Morris, ND, MS, L.Ac.
Dr. Artemis Morris, a speaker at Symposia Medicus' annual conferences on Integrative Medicine in Women's Health over the last six years, shares a healthy, feel-good recipe to start us all off on the right foot—or should I say right food—for the New Year.
There is such a thing as "healthy" carbs—and this soup is one of them! The right kind of carbohydrates, as from vegetables, beans, and whole grains, are packed with fiber and minerals and they even help boost our brains' serotonin levels—which is why carbs are our "comfort foods."
This is one of my favorite winter soups from my Mediterranean mother's recipes. It is simple, easy to make, and oh, so good.
Chickpeas are a hearty and satisfying meal rich in fiber and complex carbohydrates. The recipe gets an immune supportive twist with the addition of onions. Onions are high in Vitamin C, antioxidants (quercetin), and sulfur compounds, all of which support a healthy immune response. Studies have shown that consuming onions may protect against cancer, lower cholesterol and blood pressure, and help with respiratory illnesses and asthma. My mom told me that when she was growing up in Crete during WWII, they ate raw onions with their soups. Onions are like the Mediterranean apple and may be why there is a lower risk of heart disease, cancer, and inflammatory disorders when consuming a traditional Mediterranean diet.
Chickpea Soup aka Revithia Soup in Greek
Ingredients:
500g/17oz of dried chickpeas (revithia)
1 large white onion, chopped
½ cup extra virgin olive oil (EVOO)
Salt and pepper to taste
Water or organic chicken broth
½ cup white rice, rinsed (optional)
To thicken and make Derbiye (optional):
Juice of 1-2 lemons (depending on your taste preferences)
2 Tbsp flour
Instructions:
Wash and soak the chickpeas overnight
Rinse chickpeas in a colander several times
Put water or broth in a stovetop pan and add the soaked chickpeas. Make sure there is enough water or broth to cover the chickpeas with at least an additional inch of water over the chickpeas.
Bring chickpeas and liquid to a boil, then simmer. Use a slotted spoon to remove and discard the white foam as it rises to the top for about 15 minutes.
Once the foam has stopped forming, the liquid is mostly clear, and the chickpeas are softer but not fully cooked, add the chopped onion, rice (optional) and EVOO. Add another cup (or more) of water while the chickpeas are simmering to keep a soupy consistency.
Simmer for at least one hour or until both the chickpeas and rice are soft but not mushy
If you would like to thicken the soup more, you can add a lemon-and-flour mixture called Derbiye in Greek.
To make the Derbiye:
Combine the juice of one lemon with 2 Tbsp of flour in a separate bowl
Gradually add the hot soup mixture while whisking the ingredients together so that it doesn't curdle
Add the thickened Derbiye mixture back to the original soup pan and stir ingredients together
Season to taste with salt and pepper
Like other soups in the Mediterranean, this traditional Mediterranean diet recipe is generally eaten with olives, raw onions, and whole grain bread. A glass of homemade red wine may accompany it (optional). A warm soup on a cold day is food for the body and soul.
Dr. Artemis Morris is a Professor of Nutrition at the University of Bridgeport. She lives in Woodbridge, Connecticut with her 9-year-old twins. Her revised publication, The Anti-Inflammation Diet for Dummies, is available on Amazon. For more information, please visit https://drartemis.com.